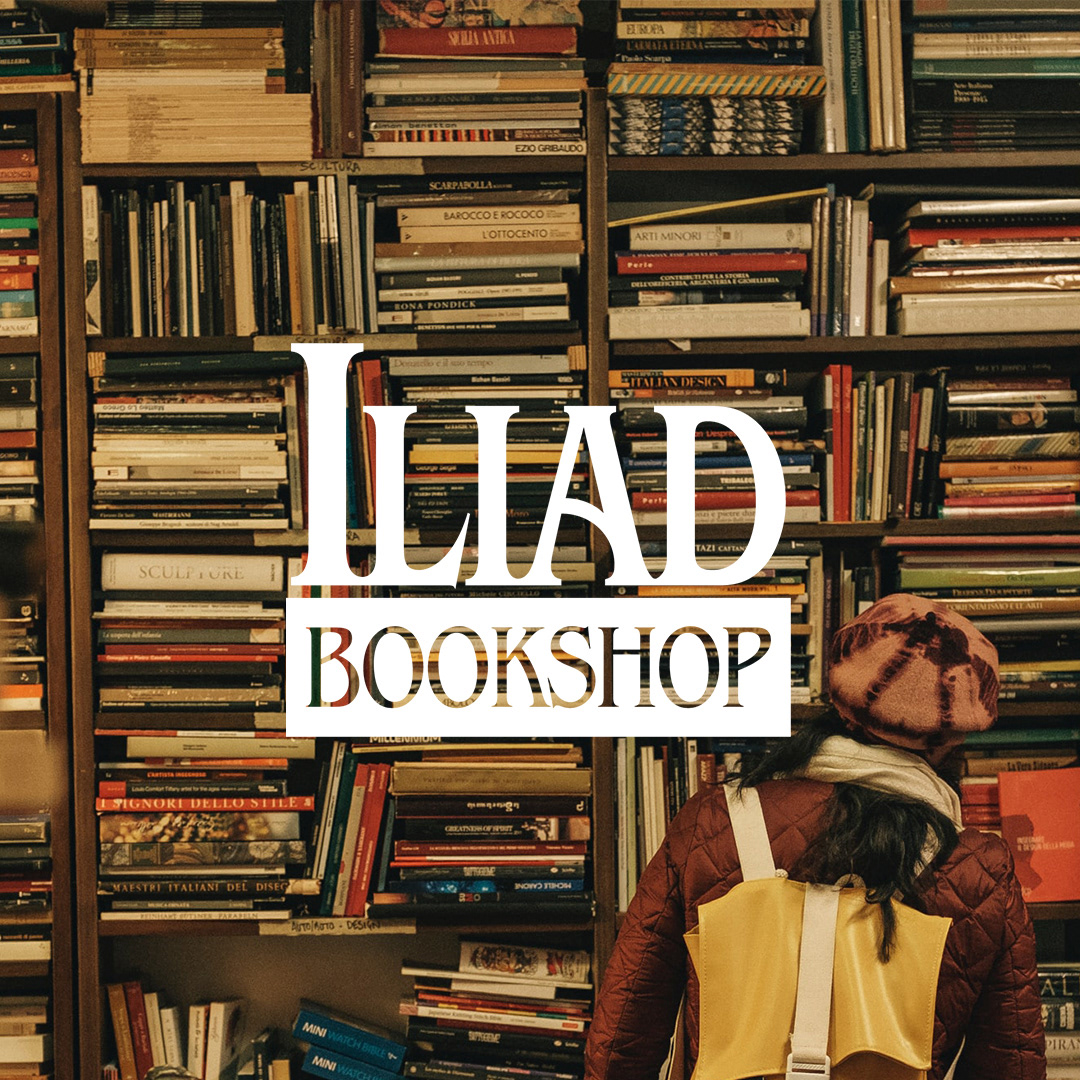 The Task
Create a social media marketing strategy for a local business, including setting a budget, target audience, and duration in Facebook's Ad Manager, and designing creative for the ads. The strategy should encompass three Instagram ads, three Facebook ads, three Instagram/Facebook carousel ads, a TikTok ad, and three promotional emails. 
The Iliad Bookshop in Burbank is locally owned and offers a huge in-store selection of used books in most subjects, but with a focus on literature and the arts. It also has two friendly shop cats! Their website is kept up to date, but the online inventory isn't complete; this social media campaign focused on getting people to come in to the store to browse and find their next great read.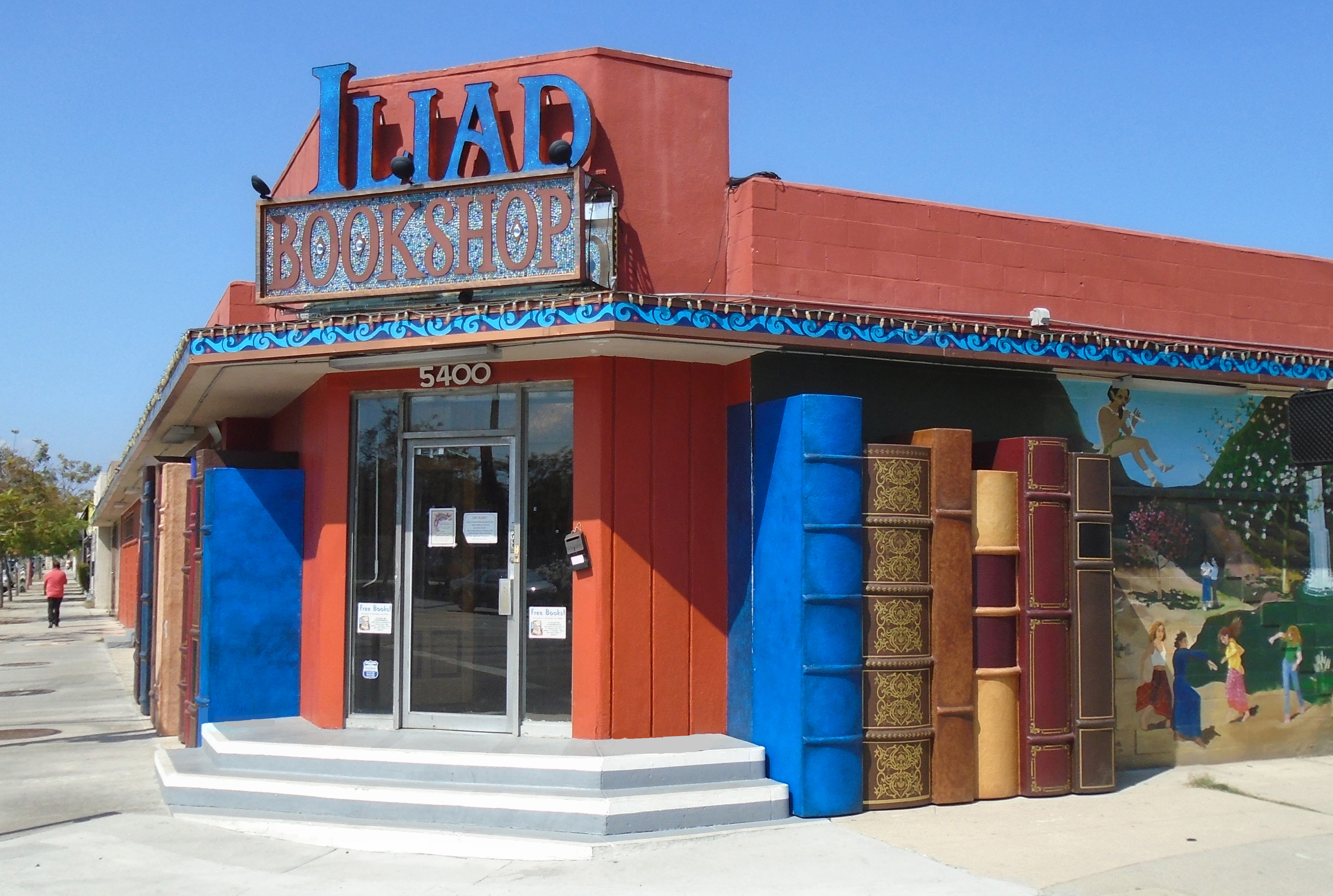 Strategy
This social media ad campaign is proposed to run for one month, spanning Instagram, Facebook, and TikTok. The imagery and messaging work to sell a warm, cozy shop experience and entice people to come into the store, get lost a little, and browse the 150,000+ books in stock. 
An emphasis is also placed on the difference between shopping for books online and shopping in-store (with the implication, of course, that shopping in-store is a much better experience). 
The phrase "find your treasure" is repeated throughout the campaign, hinting that a there is a real gem of a book for everyone among the shelves.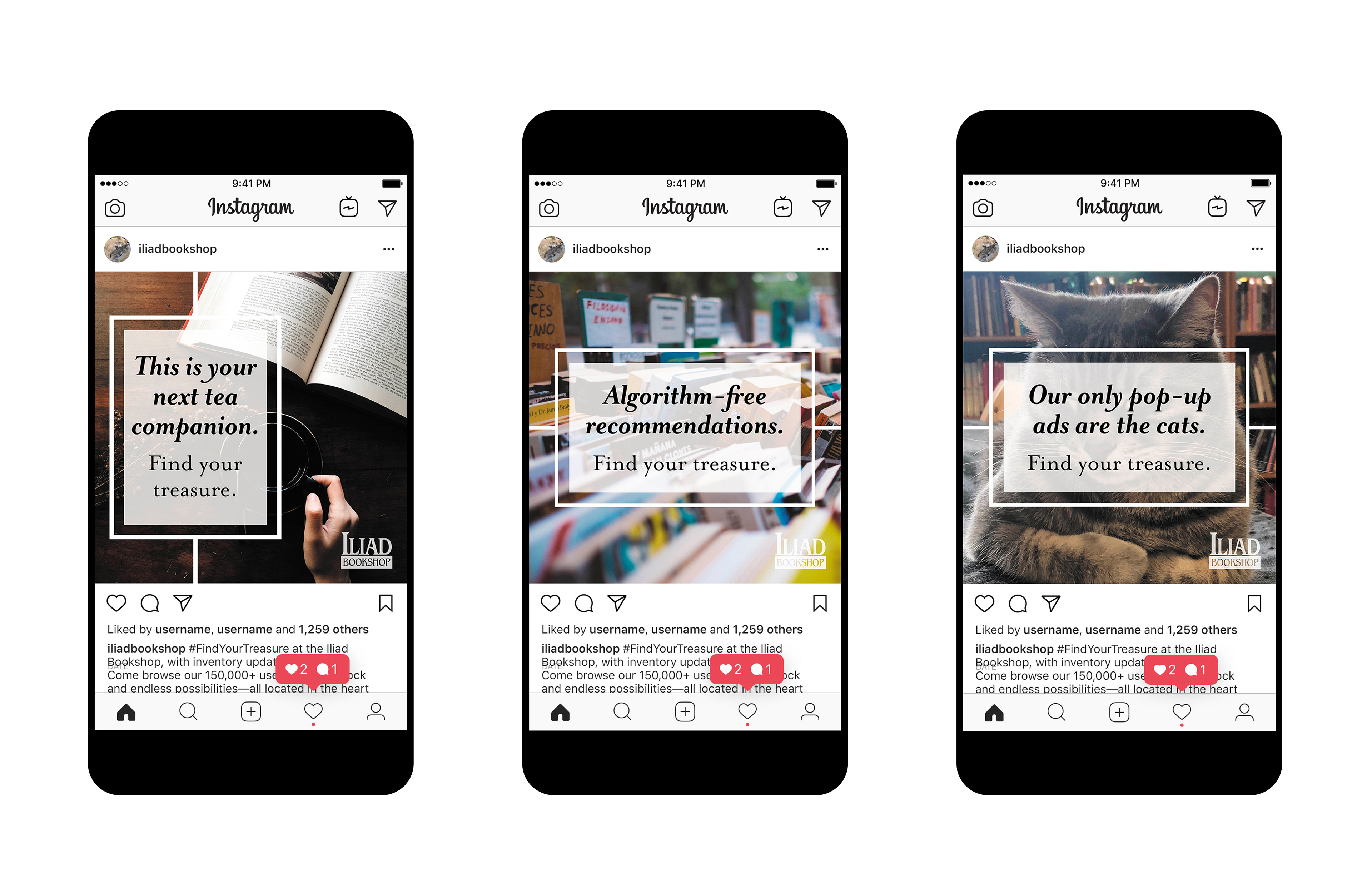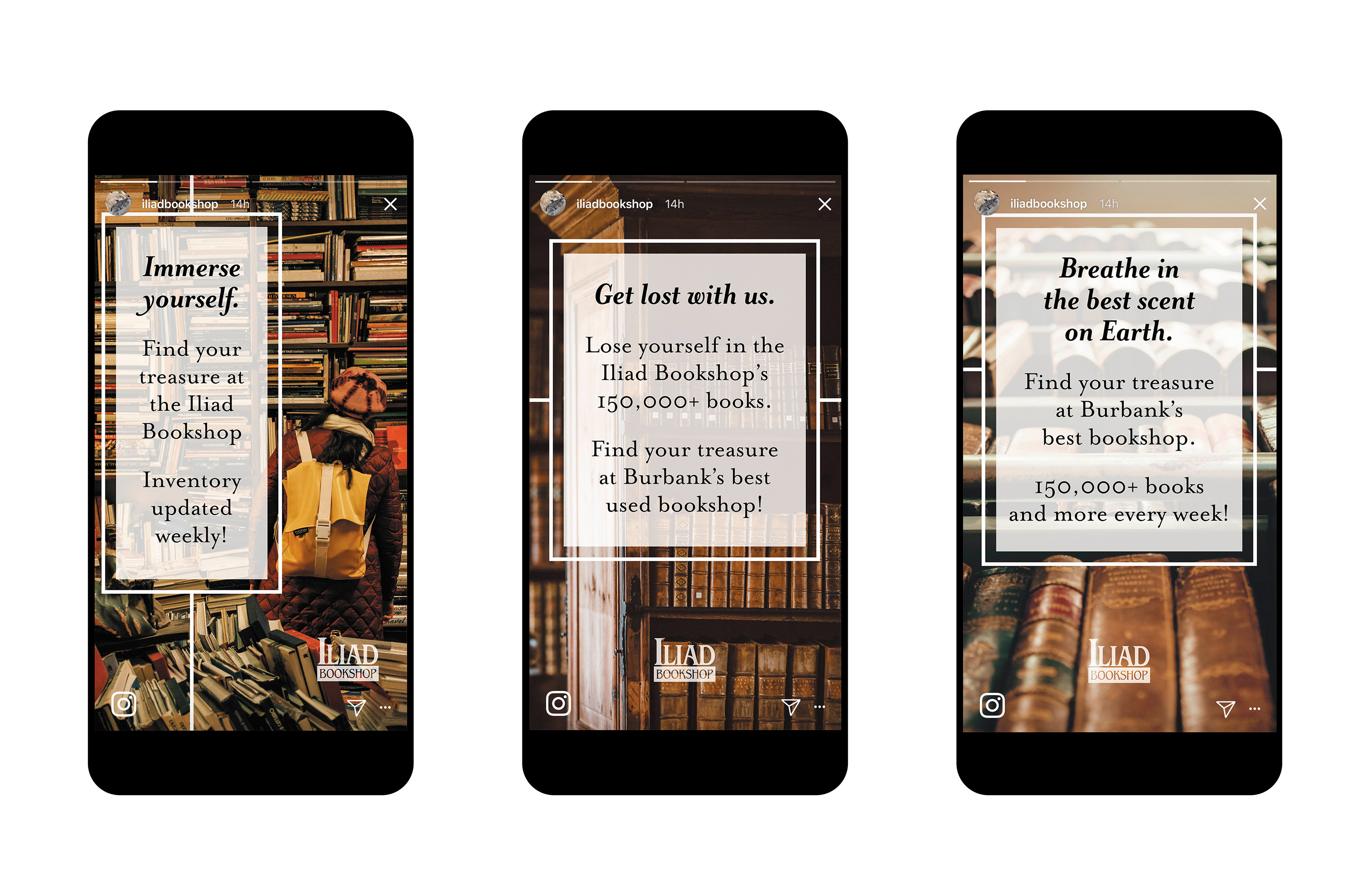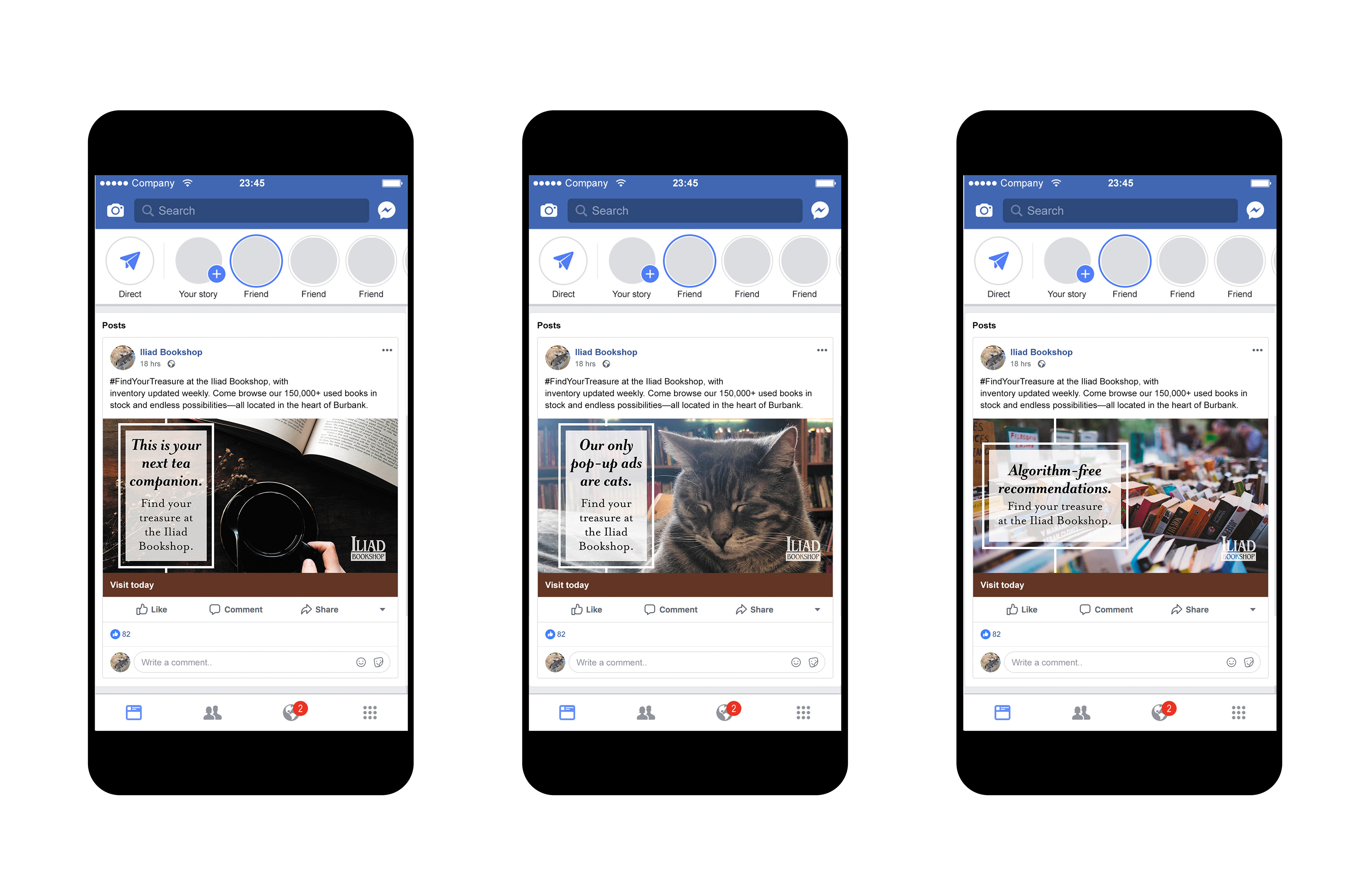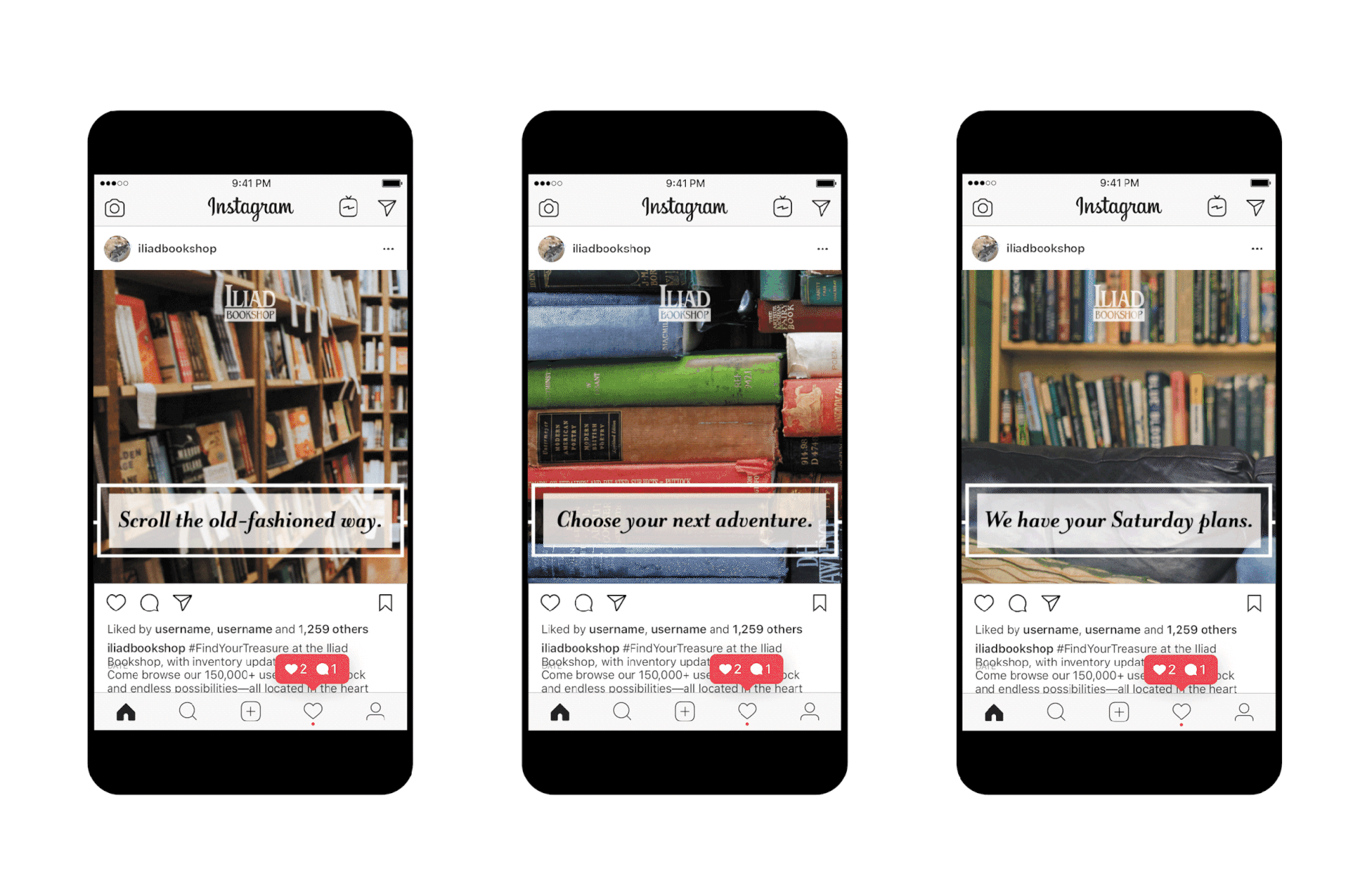 Email Campaign
These three email designs are examples of what the email campaign could look like. The welcome email would be sent out once, when someone signs up for the list, promotional emails would be sent out once a month, and the newsletter, Cats and Curiosities, would be sent out on the first of every month.

Facebook Ad Manager Screenshots
The audience for this campaign is narrowed by location (Burbank, North Hollywood, and LA area), age (adults), and people interested in literature, the arts, and other topics that the Iliad stocks books in; it is also narrowed to people who like coffee shops, thrift shops, and cats. The budget is set to $5 a day for the month of May. 
Customer Avatars
These three customer avatars were created at the beginning of the process to help solidify the target audience and focus the messaging of the campaign.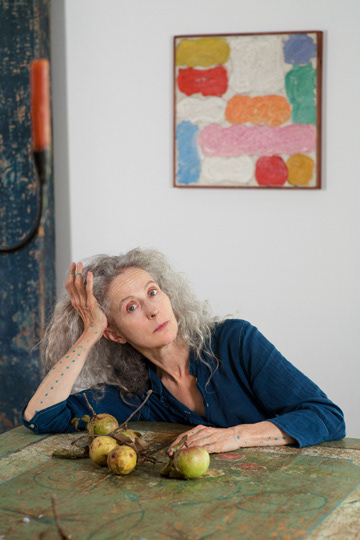 Customer Avatar 1: Aurora 
Aurora is a 65-year old painter living in Burbank. She enjoys a solid career in painting, but considers herself semi-retired. She enjoys the farmer's market or cozying up in a comfortable chair with a book. She and her wife have a border collie named Boris, and she sometimes feeds the neighborhood cat in the backyard. They both love to travel and have filled their home with eclectic treasures. 
Cheap books, browsing/exploring to find a new treasure or two, spend time somewhere with atmosphere and nostalgia
Values
Supporting small businesses, community, sustainability, thrifting, being well-read in a range of subjects
Information Sources
Enjoys reading: historical fiction, art history, memoirs, the occasional trashy romance novel
Thoroughly reads both the L.A. Times and the New York Times, subscribes to Buzzfeed's Dog a Day email newsletter
Enjoys foreign films, documentaries 
Uses Instagram, Facebook, Pinterest
Challenges
Wants to support more local businesses, especially bookstores
Dismayed by takeover of Amazon, and misses in-store experiences
Pain Points
Doesn't like shopping online
Doesn't like spending too much money on books she reads once
Doesn't find knowledgeable customer service at other bookstores
Objections
Even though she's retired, sometimes she doesn't have time to go and browse the shelves
Her wife has cat allergies, so it's hard to shop together
Has a specific book in mind to buy, and doesn't want to have to search for it
Worried about being in a small space indoors during the pandemic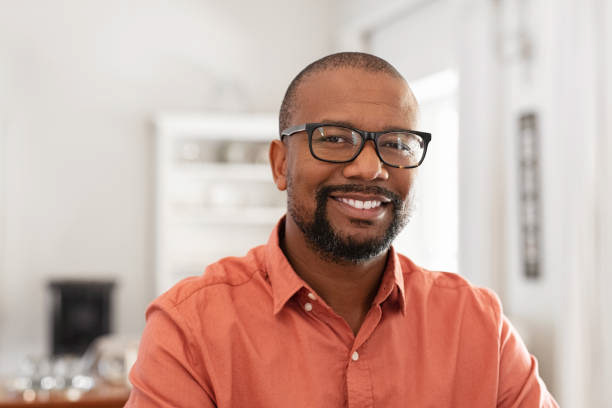 Customer Avatar 2: Dave 
Dave is a 40-year old father who manages IT at Glendale Community College. He, his wife, and his daughter live in Glendale with their cat Potato, who sometimes makes a mess of the kitchen herb garden. He dislikes working remotely during the pandemic, but he likes that he gets to spend more time with his family. He has a weekly zoom appointment with his Dungeons and Dragons group, and he's starting to get his daughter into it too
. 
Being frugal, exploring a new place, away from daily life, spend quality time with his daughter
Values
Supporting small businesses, finding new treasures, tactile experience away from working remotely, learning about new subjects
Information Sources
Enjoys reading: graphic novels, military history, gardening books, photography, fantasy/adventure
Gets news from CNN and has an online subscription to a local newspaper 
Watches Doctor Who, Star Trek, the Queen's Gambit, the Bachelor
Uses Instagram, Facebook, sometimes Twitter
Challenges
Wants to support more independent bookstores
Wants to read more, and wants his daughter to read more
Wants to get off the computer
Pain Points
Shopping for books online or at large bookstores is too impersonal or doesn't have the right vibe
Books are often expensive
Objections
Doesn't always have time to go and browse the shelves
The drive is a bit long from where he lives
Online inventory isn't complete
Customer Avatar 3: Brook 
Brook is a 26-year-old copywriter and editor living in North Hollywood. They graduated with a bachelor's degree in literature, but they also have a passion for music, especially guitar, and hope to be a songwriter one day. Brook's roommate is a friend they met in college, and their family lives on the east coast. They're still living that "broke college student" life, and enjoy exploring new places around town.
Escape from the hectic world of remote work and pandemic life, find some new treasures, score a deal
Values
Alone time, discovering new things, shopping local, thrifting and reselling
Information Sources
Enjoys reading: books on spirituality and meditation, poetry, music theory, fantasy/adventure 
Subscribes to a couple free email newsletters from the New York Times and the Huffington Post
Watches historical dramas, Say Yes to the Dress, travel documentaries, and Avatar the Last Airbender 
Uses Instagram, Twitter, TikTok
Challenges
Spends a lot of time in front of the computer
Misses reading like they did as a child
Wants to find a place to get lost in
Pain Points
Read a lot growing up, but doesn't read as much now
Doesn't like online book recommendations
Misses the family cats
Objections
Online inventory is limited; can't check and see if a book is in stock
Doesn't always have time to go and browse
Doesn't have much space in their small apartment for more books